Civil Rights Cases Attorney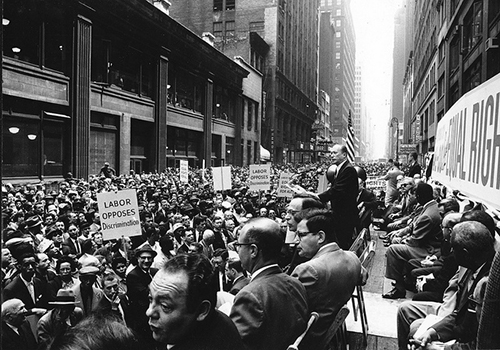 In the United States, you are guaranteed certain rights by the U.S. Constitution. That same document provides the foundation for a free, fair, and just society. The rights, liberties, and protections found in the Constitution are taken very seriously in America, particularly when they are violated. If your civil rights have been violated by an employer, an individual, or a governmental agency, you may have remedies available under the law
At the Law Offices of Adam M. Thompson, P.C. we understand the personal, and often sensitive, nature of a civil rights violation. We are committed to zealously defending your civil rights and aggressively pursuing a claim against anyone who has violated them. If you have suffered a civil rights violation in New York City, please contact our firm now by calling 855-497-2326 or by filling out our contact form. Our firm is proud to represent individuals throughout New York State and New Jersey.
What should I do if I am the victim of a civil rights violation? Click here for more information.
Types of Civil Rights Cases
The U.S. Constitution guarantees you a number of civil rights. Unfortunately, any of those civil rights could be violated by an individual, an employer, a company, or a governmental actor. Some of the more common types of civil rights cases we handle include:
Employment discrimination — The law is clear: an employer cannot discriminate on the basis of protected characteristics such as age, race, ethnic background, national origin, religion, disability, marital status, or sex. Individual state laws often provide additional protected classes such as "gender" (gender identity). An employer who makes hiring, firing, or promotional decisions based on any of these characteristics is in violation of the law.
Discrimination in housing and/or public accommodations — It is illegal for privately owned facilities that offer food, lodging, gasoline or entertainment to the public to discriminate on the basis of the same protected classes (age, race, ethnic background, national origin, religion, disability, marital status, or sex). Likewise, you cannot be discriminated against when applying for public housing or other state or federal benefits on the basis of a protected characteristic.
False arrest or imprisonment — If a defendant in a criminal case believes that he or she was falsely arrested and/or is being falsely imprisoned, a lawsuit may be filed in civil court. Known as a "Section 1983" case after the applicable federal statute (42 USC 1983), these cases require a defendant to prove that he was wrongfully convicted or that he was arrested but acquitted, or that the charges were dropped.
First amendment freedoms — The First Amendment to the U.S. Constitution provides for freedom of religion, speech, and of the press, as well as the right to assemble and to petition the government for redress of grievances. There are a virtually endless number of ways in which one, or more, of these freedoms can be violated.
Police misconduct or excessive force — While law enforcement officers are frequently required to use physical force to restrain a suspect and/or protect the public, the law does not allow the force used to be excessive. Moreover, law enforcement officers are not exempt from the laws they enforce. In fact, both federal and state laws specifically protect citizens from an over-zealous police force. For example, federal law makes it a crime "for one or more persons acting under color of law willfully to deprive or conspire to deprive another person of any right protected by the Constitution or laws of the United States." [Emphasis added] The "color of law" may refer to a law enforcement agency or any other situation wherein power has been granted by the government. It is also illegal for State or local law enforcement officers to "engage in a pattern or practice of conduct that deprives persons of rights protected by the Constitution or laws of the United States." These (and other) laws are often used in a civil rights lawsuit based on police misconduct or excessive force.
How Civil Rights Cases Are Different than Other Civil Litigation
Although civil rights lawsuits are handled in civil court, there are a number of procedural rules that cause civil rights cases to stand apart from other civil lawsuits. Often, failing to understand and follow these procedural steps can result in forever losing the right to pursue your claim. For example, when a government actor is named as a defendant, a special notice must be filed with the appropriate agency within a relatively short period of time after the incident or injury that led to the complaint. Failing to file this required notice can forever bar you from pursuing a claim. In addition, government actors often have "immunity" that must be considered when evaluating a civil rights violation. The key to a successful civil rights lawsuit is having an experienced civil rights attorney on your side from the beginning.
A violation of your civil rights can cause lasting damage. Civil rights claims are legal in nature, but deeply personal at heart. At the Law Offices of Adam M. Thompson, P.C. we understand how important a civil rights case is to everyone involved, which is why we are dedicated to standing behind a victim throughout the often lengthy process of seeking justice. Contact us today by calling 855-497-2326 or by filling out our online contact form.
Civil Rights In The News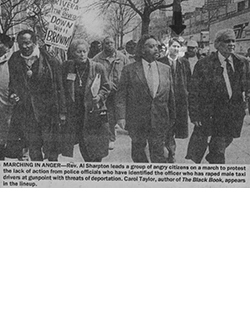 Civil Rights Case—Marching in Anger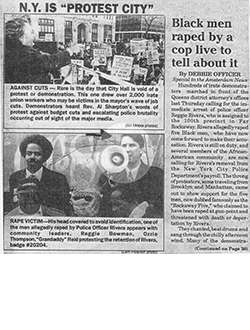 Civil Rights Case—Black Men Raped by a Cop Live to Tell About It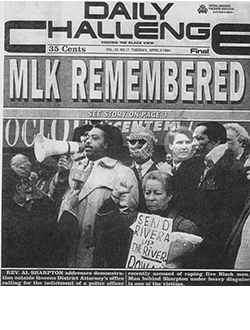 Civil Rights Case—MLK Remembered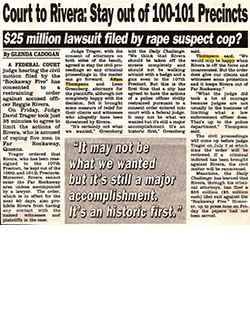 Civil Rights Case—Court to Rivera: Stay out of 100-101 Precincts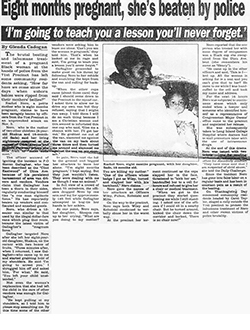 Civil Rights Case—Eight Months Pregnant, She's Beaten by Police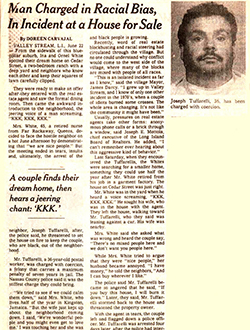 Civil Rights Case—Man Charged in Racial Bias, In Incident at a House For Sale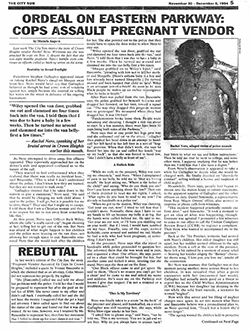 Civil Rights Case—Ordeal on Eastern Eastern Parkway: Cops Assault Pregnant Vendor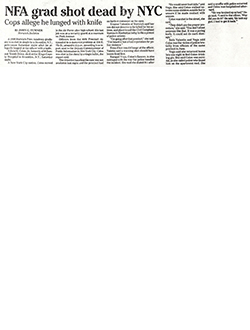 Civil Rights Case—NFA Grad Shot Dead by NYC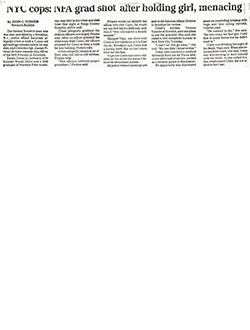 Civil Rights Case—NYC Cops: NFA Grad Shot After Holding Girl, Menacing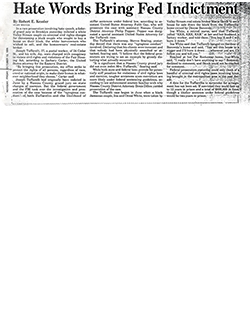 Civil Rights Case—Hate Words Bring Fed Indictment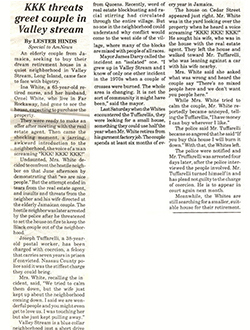 Civil Rights Case—KKK Threats Greet Couple in Valley Stream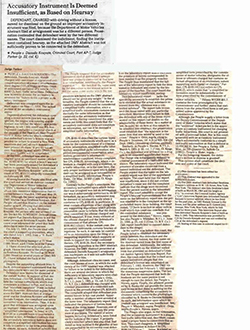 Civil Rights Case—Accusatory Instruments is Deemed Insufficient, as Based on Hearsay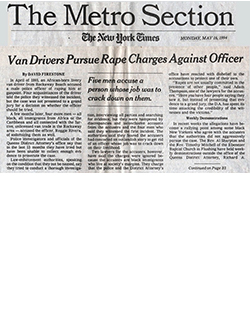 Civil Rights Case—Van Drivers Pursue Rape Charges Against Officer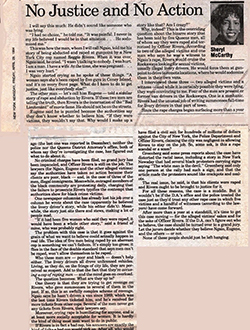 Civil Rights Case—No Justice and No Action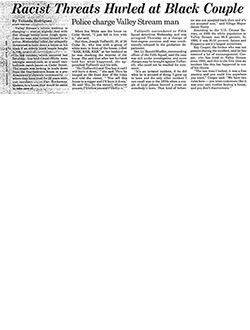 Civil Rights Case—Racist Threats Hurled at Black Couple
Civil Rights Case—Queens DA Stonewalling Rape Charge Against White Cop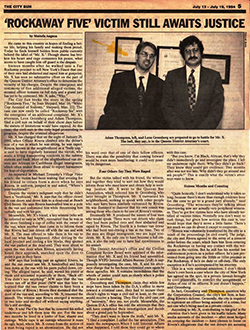 Civil Rights Case—Rockaway Five" Victim Still Awaits Justice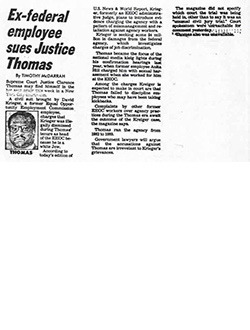 Civil Rights Case—Ex-Federal Employee Sues Justice Thomas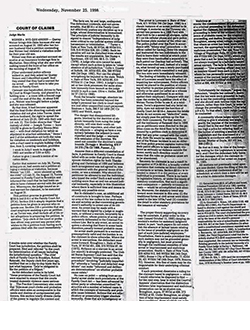 Civil Rights Case—Court of Claims
Arrested? Hurt in Accident?
Get Help 24/7
You will not find a lawyer more committed to his clients' causes than Adam Thompson. I have tried several cases alongside him and I can say from first hand experience that his trial skills are levels beyond even our most experienced piers. He has an ability to connect with jurors that is rarely seen in trial practice. Adam sets the bar very high. His passion for advocacy and absolute devotion to his clients is unparallelled. Adam personifies the ideal of the lawyer as fighter, and is an example to be followed. In complex or high stakes cases Adam is the go-to guy. A fearless, tireless, ethical and extremely competent trial attorney.
Aaron Baily Esq.
I have worked with Adam in various cases during his 26 years of practice. He's a very smart and hardworking lawyer who has great creativity and puts it to work for you. He is also very energetic, and relentless in representing his clients. When I need a great trial lawyer in New York, Adam's the one.
Anonymous
Adam Thompson is by far the most dedicated trial attorney I have worked alongside with. I have had the privilege of working with Adam on multiple personal injury trials. His attention to every detail and unmatched work ethic have always led to a great outcome. I strongly recommend Adam for anyone looking for a strong advocate who understands how important your case is to you.
Sean Gradowitz Esq.
I have worked with Adam numerous matters over the years, both in criminal defense and personal injury matters. Adam is a zealous, professional advocate for his clients.
Steven Rosenberg Esq.
Adam is one of the brightest, creative, and successful attorneys I've known. He takes command of the courtroom, is ballsy, and goes after the win like no other! If you're looking for an enthusiastic, dedicated and competent attorney who will FIGHT for you, choose Adam.
Susan Margiloff Esq.
I endorse Mr. Thompson. I've known him for more than 25 years. He is a thorough, enthusiastic attorney, and a creative, out of the box thinker. He has boundless energy and is extremely dedicated.
Amelia McGovern Esq.
An extremely talented and well respected attorney in the legal community, I wholeheartedly recommend him to anyone looking for a lawyer who knows the law and truly cares about protecting the rights of his clients and getting them the most favorable result possible.
John O'Brien Esq.
I endorse this lawyer. Adam is a very intelligent and creative attorney, who puts his extensive experience and abundant energy at work for the benefit of his clients. He is the kind of litigator that you want on your side when you need to fight a difficult fight.
Mario Pabon Esq.
Top-notch attorney. Highly respected in the legal community.
Christian Lassen Esq.
Great lawyer. His opinions and advice make obvious his legal expertise and handle on the law. I recommend him without reservation.
David Fraser Esq.
Adam Thompson is one of the most gifted and knowledgeable trial lawyers I have ever seen. We have worked on many cases together and his input and insight is invaluable.
Mike Rubenstein Esq.
I have used Adam Thompson for all types of personal injury and criminal cases for my firm for over 10 years. He is simply the best. I call him "The Master" I would recommend his service to anyone!
Peter Hurwitz Esq.
Adam Thompson has tried several cases for my firm. We always win, and the clients love him! He is 'The Man'!
Mathew Kogler Esq.
I have used Mr. Thompson's services as trial counsel on numerous cases. I have found him to be professional and always prepared. He always obtains excellent results. He is an aggressive lawyer who gets things done. My clients have always thanked me for using his services.
Leon Greenberg Esq.
Adam had be retained by a close friend many years ago and I had always heard him described as a "powerhouse"! Recently, I had an unexpected situation and thankfully we still 25 yrs later had Adams number. It was a holiday weekend and he was out of state but he quickly took it over and not only advised me but went beyond by doing everything possible to minimize the situation immediately. He kept me informed, explaining next steps and his expectation. He handled it so professionally and I honestly don't think the outcome would have been what it was without him. I am very grateful and highly recommend him.
G.C. New Jersey
When I met Adam Thompson, I knew right away that he was a class act! He is a brilliant attorney, fights for his clients and what he believes in with 110% passion and effort! His knowledge as it pertains to the law (criminal, civil) is simply unmatched! Having had the pleasure of working with Adam Thompson as an on air news contributor, I am convinced he's simply in a class by himself! I worked with him when I was a journalist at CNN and now have had the pleasure of having him as a guest in my own broadcast studio (www.floridasunstudios.com) as a frequent guest commentator on HLN's Jane Velez Mitchell's Show, Issues. Aside from being a brilliant attorney, this guy has moxie and class! It's no wonder that he is also a syndicated radio talk show host. If I were a network news executive, Adam Thompson would definitely be on my "short list" of attorneys to hire as a legal analyst!
Scott
Adam Thompson has been my attorney since 2006. He is on top of his game! Always honest & up front. Always gets back to me if I have questions & reliable. 100 % energy!!! He is a winner! He prepares you at all time & keeps you well informed and updated. I trust him! If you need someone on your side chose Adam Thompson. You will be glad you did!!!!
Nike
If you are looking for a skilled, knowledgeable, caring yet aggressive defense in legal matters then Adam Thompson is your answer. I have known Mr. Thompson for seven years needing his assistance on two different occasions for a family member and then myself. My experiences with Mr. Thompson have been completely positive. Adam's handling is heartfelt (he treats you like family) and your in good hands legally since he is very proactive and hardworking on your case. I feel very confident and reassured having him as my attorney. He embodies all the good qualities that you would look for in an attorney but more importantly in a human being.
Karen
Adam saved my life!! I was in danger of being falsely convicted because of poor representation from my first attorney. Adam stepped in and got down to business. He is super smart and understands the most important aspects of working a case. More importantly, Adam took the time to make me feel comfortable with the process and understand me. I couldn't imagine any other attorney closing my case with such success!!
Adreama
This guy is the "best of the best"! Generally I do not like lawyers so for me to say something is quite amazing. Adam is an honest lawyer who is out for the clients best interest regardless if it puts money in his pocket or not. Its hard to find a decent guy who knows what he is talking about. So if Adam will work with you I'd say run don't walk as he has the knowledge and character to help you.
Adam Urban
Adam Thompson is one of the greatest lawyers in the legal profession. His knowledge of the legal system is impeccable. He got me out of some stuff and for that i am forever in his dept. He is know joke and he really wins every case.
Marcus
Adam put his heart into my case as if he were the client. He speaks up and stands up for his clients. A real old school mouthpiece. A true lawyer.
Tom
Mr. Thompson walked me through my case (personal injury) and arranged for doctor visit for evaluation of injury and subsequent therapy sessions. He kept me informed of my status and explained the entire process so that there would be no surprises. I was prepared for depositions and eventually the case was settled and all issues were resolved favorably.
David
Adam has helped me fight the police and the City for the past ten years over my son getting killed by a NYC cop. He fully investigated my case and always kept me thinking positively. He was able to settle my case with the City I call him my Guardian Angel. God bless him.
Yvonne V.
Mr. Thompson represented me in a criminal case where I was misidentified and charged with serious crimes I did not commit. He fully investigated my case and never gave up.  We went to trial and he got me acquitted of all charges. I am now married and have gotten on with my life, I have Mr. Thompson to thank for that.
Keith P.
Mr. Thompson represented me in an automobile case.  My family and I cannot thank him enough for all his effort and advice. We were ready to settle the case to just get it over with and he urged us to wait it out and have patience. It turned out I had much more serious neck and back injuries than had first been discovered requiring major surgery. He later settled our case for almost one million dollars.  He never stopped fighting for us. He has helped us so much.
Alex R.
Mr. Thompson represented me in a automobile accident case. Other lawyers did not want this case. Mr. Thompson accepted my case and fought for may years to protect my rights. The insurance company refused to settle and offer any money for my injuries. Mr. Thompson never gave up and took my case to trial.  He was able to get a jury verdict for $125,000.00 when everyone else said I would get nothing.  I don't know how I would ever thank him.
Ronald J.
He worked a true miracle representing me.  God bless him. I recommend everyone to use him. He really cares.  He took my case to trial against the city and was just excellent.  The jury and judge loved him. He was like watching a movie.  He should be on TV.He settled my case before verdict for over $550,000.00. I still cannot believe it.
Alicia H.
Mr. Thompson is the best. We consider him family. He has handled several cases for my family and our friends over the years and always gets great results.  More than that, he treats you with respect and really cares. We would refer anyone who needs a lawyer to him.
Jose M.
I cannot thank Mr. Thompson enough for what he did for me and my family. I was falsely accused of a crime and he stood in my corner and fought for me day and night.  We went to trial and he won my case.
Melvin B.